Hi everyone,
I've been trying to run an Image Classifier impulse on my STM32H745I-Disco Board, which has two MCUs: Arm-M4 and Arm-M7. However, even when I try to run a simple use case as in https://docs.edgeimpulse.com/docs/using-cubeai, I keep getting a lot of undefined reference errors (for the functions: ei_calloc, ei_free, ei_malloc, ei_printf_float, ei_read_timer_ms, and ei_run_impulse_check_canceled). I checked where these functions are defined and I only found their prototypes in the ei_classifier_porting.h file.
I'm using STM32CubeIDE, and it seems like an error when including new libraries. If my understanding is correct, when I program a dual-core board such as from the H7 series, then I must treat each MCU as a different CubeIDE project. This seems a bit confusing, below there's a capture of the errors I'm hitting after following instructions carefully.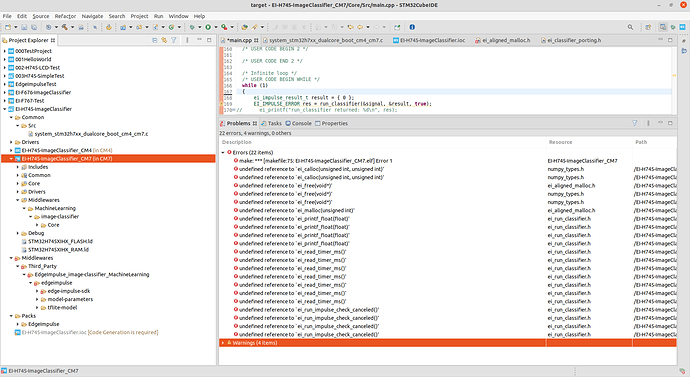 Would appreciate any kind of help,
Alejandro.