Hi,
I´m trying to deploy a model using the C++ library to my nrf52840 DK, but I get build errors.
I´ve followed the tutorial on https://docs.edgeimpulse.com/docs/running-your-impulse-locally-zephyr.
I do "File" -> "Open nRF Connect SDK project…" -> select "example-standalone-inferencing-zephyr-master" map as project -> select nrf52840dk as board
"example-standalone-inferencing-zephyr-master" map has same structure as mentioned in the tutorial.
I get 11 build errors looking like this: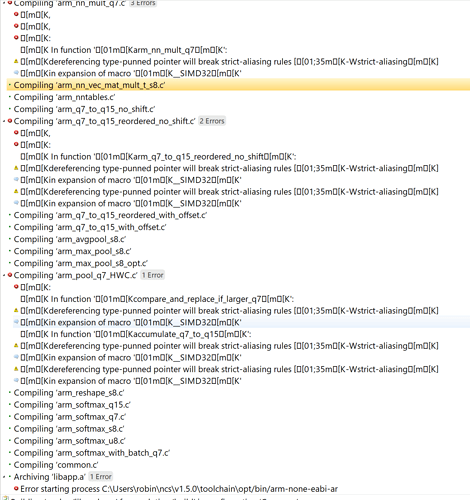 In the end it outputs "Error starting process C:\Users\robin\ncs\v1.5.0\toolchain\opt/bin/arm-none-eabi-ar"
I´ve tried building other sample projects provided by Nordic Semi, and those builds.
I´ve tried same procedure on both nRF Connect SDK 1.5.0 and 1.4.99-dev1.
Do you have any idea how to work around?
Was unsure whether I should report this on bug or something else, but I can´t build the project after following the tutorial step by step, so I thought it might suit here anyway.