Hello everyone,
I'm trying to deploy my custom MNIST model to the Jetson Nano using Edge Impulse. So far, I've successfully followed the Linux C++ SDK tutorial by downloading a C++ library and building the application via: APP_CUSTOM=1 make -j which works well.
However, now I want my model to run on the GPU of the Jetson Nano, so I downloaded the TensorRT library, replaced the C++ library in the /example-standalone-inferencing-linux directory with it and downloaded the shared libraries via sh ./tflite/linux-jetson-nano/download.sh but when I run APP_CUSTOM=1 TARGET_JETSON_NANO=1 make -j to make build the application, I get the following errors: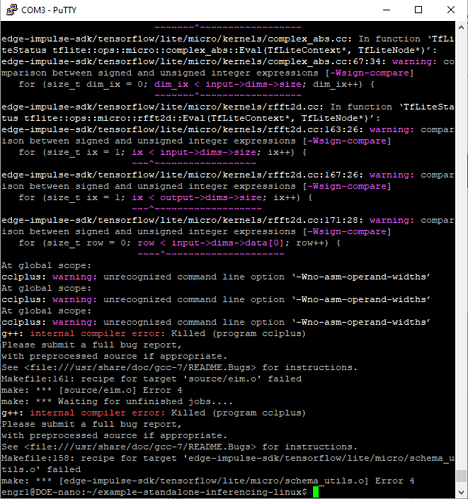 My Jetson Nano is running Linux version 4.6.1-b110 and gcc version 7.5.0. I've tried updating my C++ compiler version, but this is the laster version I can download. Is it because I'm using an old C++ compiler?