So the Edge Impulse Ambassadors have the ECM3532 Eta Compute AI Sensor and I think a few Ambassadors are getting the Eta Compute AI Vision Board. Mine should arrive tomorrow, as I paid $25 Canadian for duties/taxes. These boards should work fine with Edge Impulse like other boards we have tried, but like with all boards I am most interested in programming them, getting a feel for how simple it is to program AND using Edge Impulse on them.
Looks like some cool possibly cloud compiler is available at etacompute.com/tensai-software/, just wondering if anyone is familiar with it? (I just want to take it for a spin and blink some LED's)
Presently slightly stumped by the business email, which I probably should not use my school email. Does anyone know the process to get to the compiler once you have a developer account? I can't find a single Youtube video about it.
Edge Impulse is even in the diagram!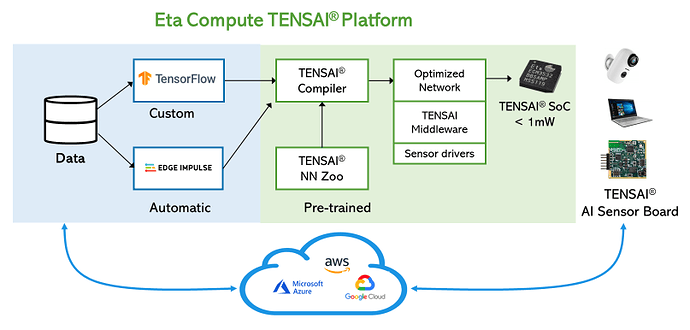 Personally I try to stay away from the big clouds which always seem to want my credit card while explaining how cheap their service is.