hello,
Rink here,
I am trying to do train accelerometer sensor data using edge impulse.
In edge impulse studio, all work well. I export the STM32cube.AI package file. Then I integrate that package in STMcubeIDE.After this process, I made simple code which just got accelerometer data, and this data processed by edge impulse sample API but I don't get aspected output. So I need your help to get the best result in my project.
Project detail:- Make a Demo of accelerometer with detecting a minimum three types of movement for example right-left, up-down, Zick-zack.
Board - stm32l476 discovery
Sensor - lis2dw12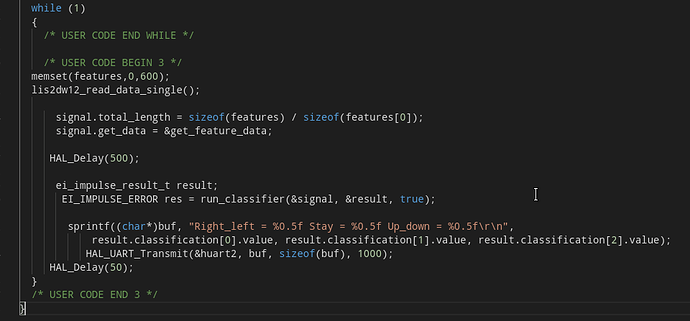 This is my code , every time I filled features named buffer with my accelerometer raw data which collecting in real time, this raw data got 100% accurate answer in edge impulse studio but in code that data don't give proper answer ?
If you give any other detail about my project then I will give you , just solve my problem.