Hello,
I have performed my first regression model inside EI.
For the model testing I obtain: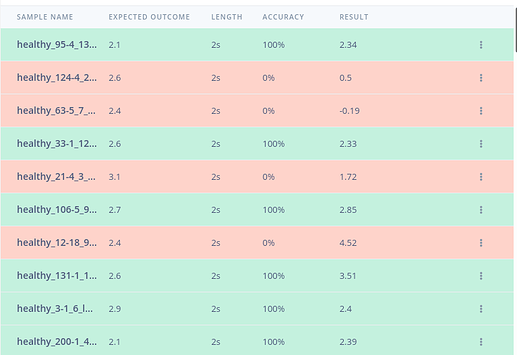 expected outcome = the truth
result = the model output or estimated value
I my case I have a model testing results accuracy of 86%. I am a little confused about the meaning of accuracy. Is it possible:
depending on the used loss function, to obtain the Mean Squared Error (MSE) or Mean Absolute Error (MAE) for the model testing. In this way I get a better feeling about the performance of the different trained models.
to obtain a plot estimated vs.truth value in the dashboard, see for example reference: [Basic regression: Predict fuel efficiency](https://www.tensorflow.org/tutorials/keras
/regression), plot shown below:

(In my case it would be walking speed.)
So far I see it is not possible to export the table from the model testing. This will give my the ability to make this plot and perform some extra analyse.
Regards,
Joeri