Hi all,
I need help!
I create an Object Detection Project on a Raspberry PI 4.
When I start the potato_classify.py Script manually, everything works fine.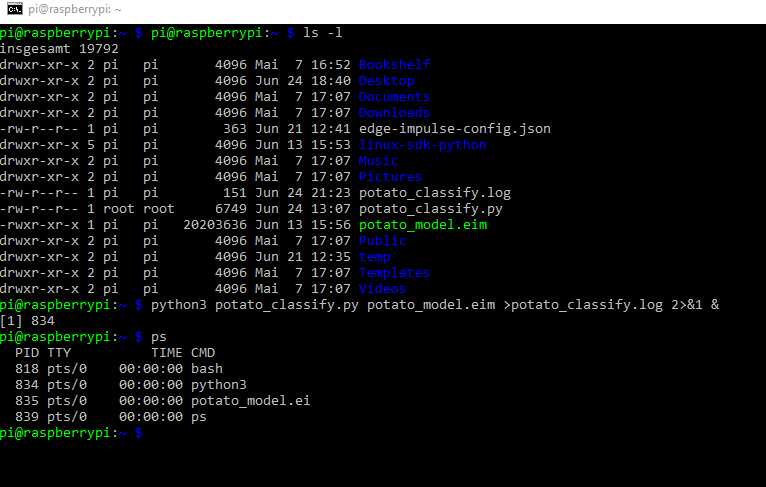 The final step is too start the potato_classify.py Script when the Raspberry PI boots.
Therefore I created the following crontab:
# Edit this file to introduce tasks to be run by cron.
#
# Each task to run has to be defined through a single line
# indicating with different fields when the task will be run
# and what command to run for the task
#
# To define the time you can provide concrete values for
# minute (m), hour (h), day of month (dom), month (mon),
# and day of week (dow) or use '*' in these fields (for 'any').
#
# Notice that tasks will be started based on the cron's system
# daemon's notion of time and timezones.
#
# Output of the crontab jobs (including errors) is sent through
# email to the user the crontab file belongs to (unless redirected).
#
@reboot python3 /home/pi/potato_classify.py /home/pi/potato_model.eim >/home/pi/potato_classify.log 2>&1 &

But then the following error occurred:
Traceback (most recent call last):
   File "/home/pi/potato_classify.py", line 3, in <module>
     import cv2
ModuleNotFoundError: No module named 'cv2'

What can I do? Where is the mistake?
Thanks in advance for the support,
Christoph