Hi All,
We have developed a model for continuous motion classifier using a 6-axis IMU interfaced with Nordic's nrf52833 SoC. The model is working fine, but it consumes a lot of power. Kindly help us reduce the power consumption.
Here are some details of application.
The motion is sampled at the rate of 50Hz (i.e the controller reads the data from the IMU at 50Hz)
The classifier runs once every 200 ms
The time taken to run the classifier is 7ms
Fig 1.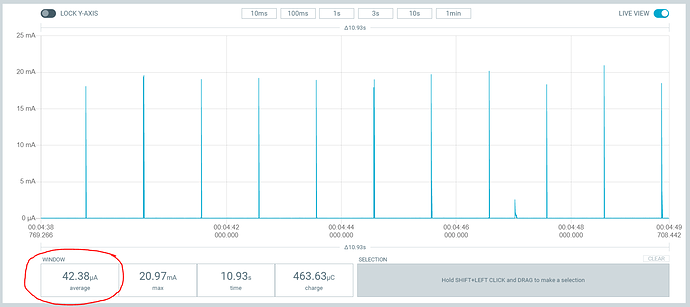 In Fig1, we have not yet started the application. Only BLE is active, the current consumed is 42.38 uA, which I think is okay.
Fig 2.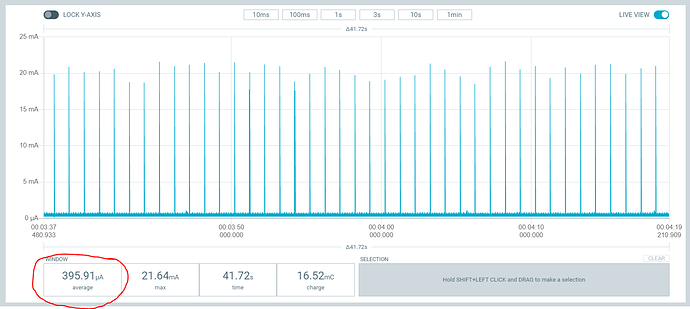 In Fig 2. 6axis IMU starts to acquire data and BLE is also active. In this case the current consumed is ~400uA. The current consumed by the IMU is ~360 uA which is consistent with what is provided in the IMU datasheet, so there is limited scope to reduce the current consumed.
Fig 3.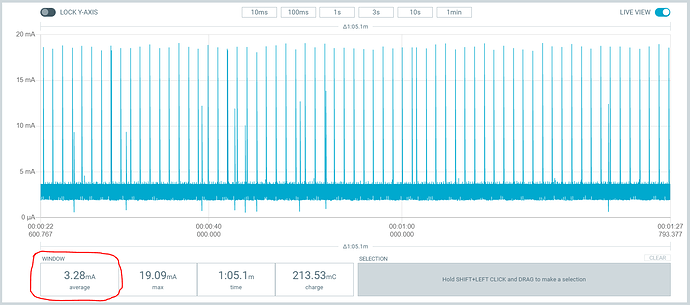 In this case, we enabled the classifier and the current consumption jumped to 3.28mA, which is high. How can we reduce this when the classifier is enabled. The time taken by the classifier to run is only 7ms and the classifier runs only once every 200ms.
Kindly let me know, if any specific configuration flags need to be set/unset to improve the current consumption.
Thanks,
RBH