I'm trying to perform Grad-CAM to have better insights of my image classification model.
To do so, I'm following an outstanding workshop from Shawn Hymel that I've found on GitHub. ei-workshop-image-data-augmentation/workshop_01_saliency_and_grad_cam.ipynb at master · ShawnHymel/ei-workshop-image-data-augmentation · GitHub
While I was following the steps I realized that I needed to upload the .h5 file from my Edge Impulse project to move forward instead of using the SavedModel file that was suggested.
By doing that I could plot the Saliency Map but I'm stuck with the path to get the last convolutional layer due that the model has them inside of what seems to call a functional engine.
This is the main model structure as seen in Netron.app
If I click into the function button and I move downwards this is what I reach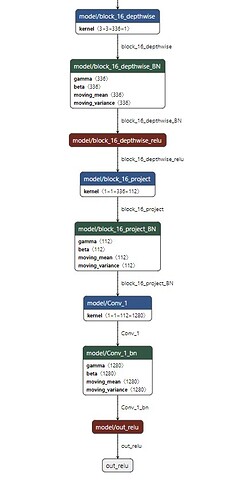 Is there any modification that I could do to the code to access the last convolutional layer (model/Conv_1) of my model?
Thanks in advance