We are sampling 8 kHz audio and are aiming to use run continuous classification, requiring our combined DSP and inference latency to be under one second (this limitation is imposed by the maximum buffer size our memory budget allows).
We have some hardware that is significantly more constrictive than the list of boards/platforms offered when, for example, choosing a target platform for the EON tuner to use.
Perhaps our project is ambitious, but our memory budget for the ML model is about 200-220 KB of flash, and 50-55 KB of RAM. We're also running on a core that does not have an FPU or dedicated floating point hardware.
Simply put, we just need a way to perform fixed point computations on our audio samples. This would help with the DSP latency and with our memory budget.
We noticed that, when using MFE block, the features data appears as integers when the sample rate is high (16 kHz) as shown here: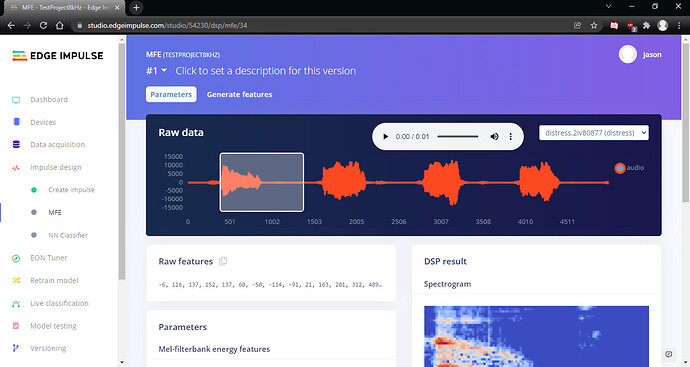 But the features are floats when set to 8 kHz as shown here: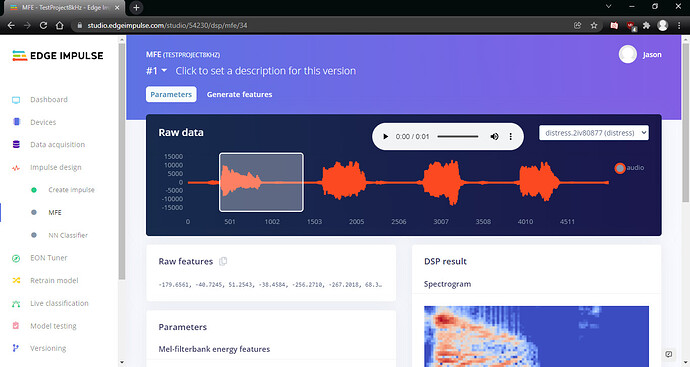 Why is this the case and is there any way to specify our desired processing precision?
We are not using a SBC, and don't have any external flash or MPU that allows us to page in the buffer as needed. I'm not even sure if keeping our buffers in flash will be fast enough to keep up with our <1 second constraint, and our RAM budget is not large enough to contain 32-bit, 8kHz samples. As far as I know, it would only work if our samples remained 8-bit through the entire process.
How can we achieve this using the Edge Impulse service? Or are there any other ideas or suggestions for other directions to take?