Hi, I am looking for help in trying to understand some of the parameters of the MFCC process block.
Here are the parameters I chose in this example.
I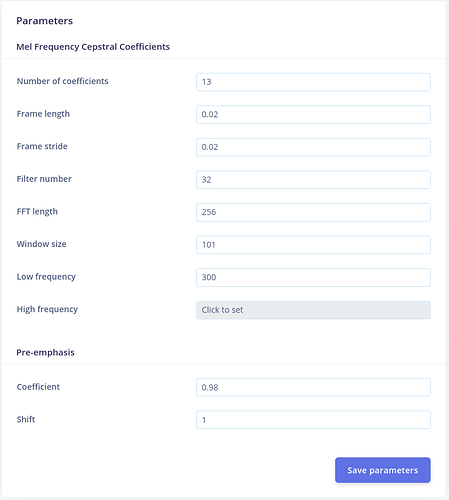 First of all let me explain what I understood :
first each sample of audio data that is fed to the block is 0.7s long (i.e 11200samples working at 16khz sample rate)
Then the 0.7s long sample is sliced into 35 (0.7/0.02=35) 0.02s audio frames which are 320samples (0.02*16000) long
Then each frame is windowed and the pre emphasis is applied
Then the fft and the rest is applied.
From this starting point I have a few questions to ask :
First what kind of window is applied each time on the audio (is it hamming ?)?
Here the frame length in samples (320) is bigger than the fft length (256). What does that mean ? Is the end, the beginning or both chopped before performing the fft.
What does the shift value symbolizes in the pre-emphasis section ?
For the filtering, what kind of formula is used, HTK, Slaney, other ?
Is the signal normalized at any point before being fed to the neural network ?
Thank you very much for any answer !