Expert Mode: Adding an Extra Layer
I have noticed that classification vision models have the ability to easily add extra layers without worrying about writing the Keras code correctly. Also Power-users can clicking the 3 ... to get into Keras expert mode.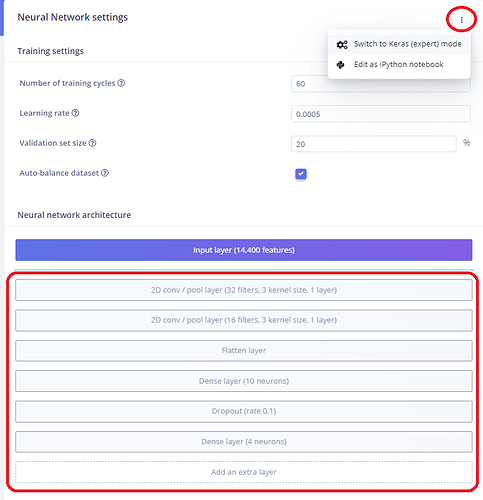 .
I have also noticed that FOMO using bounding boxes does not have that simplification to add layers:
Is the simplified addition of layers coming soon?

Does anyone have links to tutorials on how to best use "Expert Mode" for any data input (especially custom inputs from other types of sensors). I am not having much luck taking my limited TensorflowJS and Keras background to doing anything useful on EdgeImpulse with "Expert Keras Mode"
If I can, I would like to make a few short tutorials about ways you could use Expert Keras Mode. This post about the RC cars when finished would be a good advanced tutorial, but I should start with some baby steps perhaps using 2 raw data pressure sensors.