I am trying to porting a classify solution on laptop's embedded controller. It use Microchip MEC1723 which is not on support list, so I downloaded c++ library and start to porting it.
At beginning, I clone the project from below. After debug, this library is workable on my MCU with real sensor's data.
[Tutorial: Continuous motion recognition - Data acquisition - Edge Impulse](https://Tutorial: Continuous motion recognition)
To clarify that my MCU can run ML program, then I started to build my own project.
Project ID:135643
But it is strange that prediction result which is different on real device.
For example, I load " idle_13_111223" sample's first raw data in live classification.
It has correct result if I merge library to Edge Impulse's standalone c program.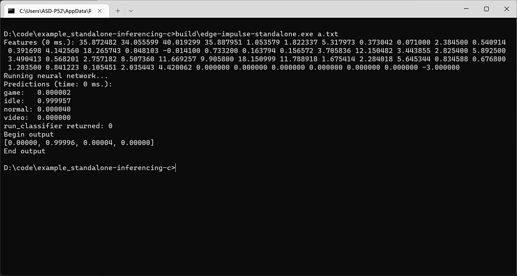 But if I use same "fixed" data on my MCU, result is totally incorrect. Below is the result from MCU.
game: 0.0407
idle: 0.014
normal: 0.8202
video: 0.1250

Does anyone can help to give some clue to keep debugging? I search the forum found that most problems are different result from live classification and library. But my problem is same library but different result on c problem and mcu board.