Question/Issue: New built model causes compilation error while previous ones didn't
Project ID:265837
Context/Use case:
Hello Edge Impulse team!
I'm working on Key Word Spotting demo project and already have 4 versions of models sucessfully integrated to the FW. My environment is:
HW: nRF52 devkit based on nRF52832
IDE: Segger Embedded Studio V7.10 (also tried the most recent V7.32)
Edge Impulse export type: C++ library for generic Cortex M4F MCU (also tried for nRF52840 with the same result)
I used to create model, include the exported code to my template project and sucessfully run it. But starting from the some point exported code started to throw compiling errors like this (file cinttypes):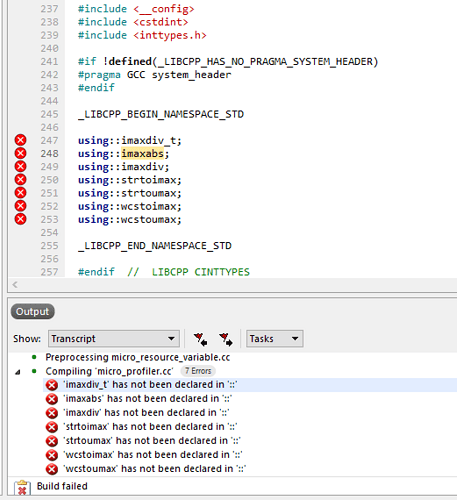 I also noticed that files in \libedgeimpulse\edge-impulse-sdk\tensorflow\lite\micro directory have changed and added some new ones. I suspect that new edge-impulse-sdk code uses some features from standard C++ libraries that are not supported by C++ libraries included to Segger Embedded Studio packet. I tried to install the latest SES version and checked C++ libraries version in package manager, everything seems up to date. Looks like SES supports C++17 as maximum, do you use more recent standard in your code?
How can I handle this issue?
Any help is appreciated!
Thanks!
Best regards,
Dmitriy.