Hi everyone,
I'm in the process of making a basic speech recognition project on the B-L475E-IOT01A board using the C++ library from Edge Impulse and porting it to Mbed.
I've run into a few problems though, I want my project to be running audio inference in real-time, but I'm having trouble using the C++ library for this purpose. What I'm ideally trying to do at this point is do the same thing as the Arduino Library "continuous inferencing" example but in Mbed (nothing more). When I tried to compile my first version of my code, I ran into a problem involving a missing file in "EI_IMPULSE_RUN_CLASSFIER.h":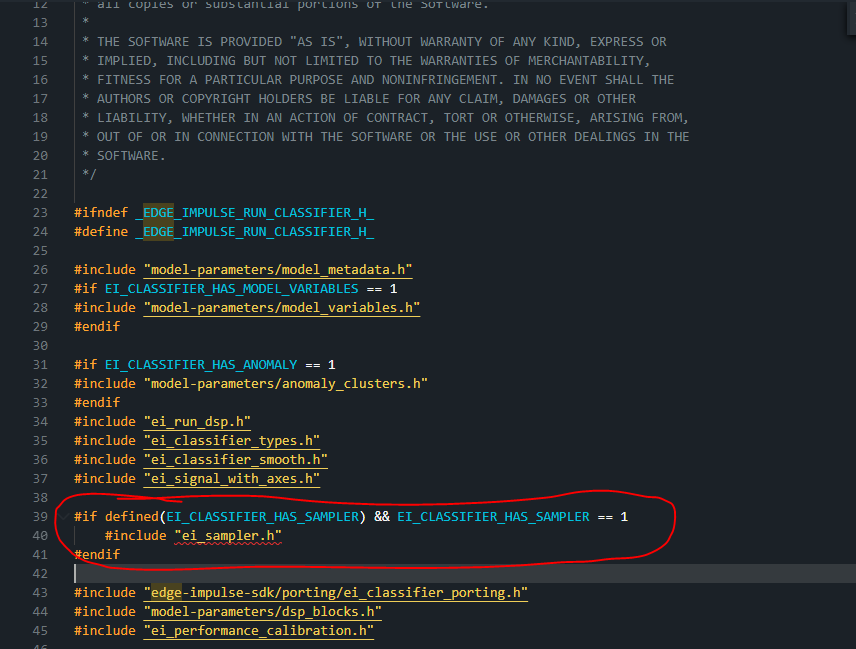 As far as I'm aware, this file was not included in the default C++ library ZIP file I downloaded from Edge Impulse. Curiously enough, all the C++ libraries I've downloaded from Edge Impulse have all had the exact same line in "EI_IMPULSE_RUN_CLASSFIER.h", calling out ei_sampler.h, but it's only outputting an error message this time with the audio project.
Aside from my attempt, the closest example project I could find was the firmware provided by Edge Impulse here: GitHub - edgeimpulse/firmware-st-b-l475e-iot01a: Edge Impulse firmware for the ST B-L475E-IOT01A development board
The example application in this GitHub page is amazing, but not what I needed though, as the example code contains many advanced features which might make my end project unable to run. Also, as far as I can tell, it implements RTOS threads to coordinate the execution of functions, and the code is written in such a way that many of these functions are interlinked and make references to each other, so I cannot simply remove the functions which are not needed for this project: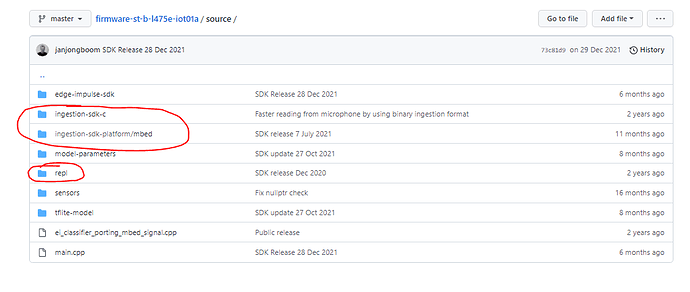 In this GitHub page though, I was able to find an ei_sampler.h file, although I cannot use it as it would require me to use all the other additional firmware included in the example project (the libraries listed in this file make reference to other additional libraries):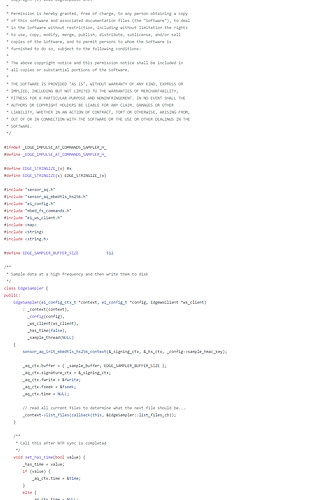 Anyways, if anyone can fill me in on where to find a simple version of the ei_sampler.h file, or ideally, an example of a continuous inference mbed OS project using a C++ library (that doesn't use an I2S mic, as those are pretty well covered) I would be really thankful

Thanks again